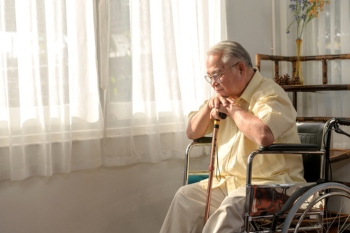 The Government is yet to even come close to 'rescuing' adult social care from crisis, a report by MPs has said.
The Levelling Up, Housing and Communities Committee said billions of pounds 'urgently' needed to be injected into the system to meet both short-term and long-term needs.
It also highlighted the lack of a 'roadmap' or timetable to implement the vision set out in the Government's White Paper.
Committee chair Clive Betts said: 'The Government deserves credit for attempting reform and for acting to try to prevent the unpredictable and catastrophic costs which can be inflicted upon people for their care.
'However, the Government should be under no illusions that it has come close to rescuing social care and it needs to be open with the public that there is a long way to go.'
The report found that adult social care services are facing pressures from inflation and demands for higher pay, recruiting and retaining staff, and rising demand.
However, most of the funding from the Health and Social Care Levy will go to the NHS, while funds allocated to social care are for reforms rather than meeting current shortfalls.
Mr Betts added: 'Ultimately, whether it relates to immediate cost pressures or on wider structural issues in the sector, the fundamental problem is that there continues to be a large funding gap in adult social care which needs filling.
'The Government urgently needs to allocate more funding to adult social care in the order of several billions each year.'
In addition to immediate funding increases, the committee recommends a multi-year funding settlement for local government and 10-year plans for producing the White Paper's vision and for the social care workforce.
The report also calls on the Government to publish a new burdens assessment by the end of the year covering staff, expertise, and funding to deliver reforms.
Responding to the report, the County Councils' Network's adult social care spokesman Martin Tett said: 'It is absolutely vital that the next Prime Minister and government act on the recommendations of this Committee, including providing short-term funding to meet inflationary pressures, dedicating more of the health and social care levy to fund reforms to social care, and introducing a fairer funding formula.'
He also called for the implementation of social care reforms to be delayed beyond October 2023.
A spokesperson for the Department of Health and Social Care said: 'We have made it clear that reforming adult social care is a priority for this Government and are investing £5.4bn over three years.
'This includes £3.6bn to reform the social care charging system and enable all local authorities to move towards paying providers a fair cost of care, and a further £1.7bn to begin major improvements across adult social care in England.'