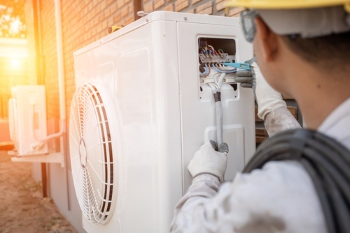 Nearly £4bn of new funding is now available to help local authorities and private home owners install more efficient, low carbon heating systems.
Ahead of the climate crisis talks in Glasgow known as COP26, the Government today announced its Heat and Buildings Strategy aimed at decarbonising public and private buildings.
The strategy includes £3.9bn of new funding which will fund the next three years of investment through the Social Housing Decarbonisation Fund, the Home Upgrade Grant scheme, the Boiler Upgrade Scheme and the Heat Networks Transformation Programme and reducing carbon emissions from public buildings through the Public Sector Decarbonisation Scheme.
The £450m Boiler Upgrade Scheme will see grants of £5,000 made available from April next year to encourage homeowners to install more efficient, low carbon heating systems.
To help grow the electric heat pump market, a new £60m Heat Pump Ready innovation programme is also being announced, part of the £1bn Net Zero Innovation Portfolio.
'Recent volatile global gas prices have highlighted the need to double down on our efforts to reduce Britain's reliance on fossil fuels and move away from gas boilers over the coming decade to protect consumers in long term,' said business and energy secretary Kwasi Kwarteng.
'As the technology improves and costs plummet over the next decade, we expect low carbon heating systems will become the obvious, affordable choice for consumers. Through our new grant scheme, we will ensure people are able to choose a more efficient alternative in the meantime.'
Phil Hurley, chair of the Heat Pump Association, commented: 'The heat pump industry warmly welcomes these bold steps forward. The industry in the best shape it has ever been, with sales this year already double those seen ever before.
'This announcement is timed perfectly to take advantage of the Heat Pump Association's recently-launched training course, with the industry now ready to retrain the UK's army of installers with the capacity to train up to 40,000 per year, to ensure consumers can find a suitably trained and skilled heat pump installer when they need one.
'Today's announcement will give industry and installers a huge confidence boost that now is the time to scale-up and retrain in preparation for the mass roll out of heat pumps, as well as making heat pumps as affordable as boilers, so all consumers can soon access and enjoy the benefits of affordable, reliable low carbon heating that stands the test of time.'