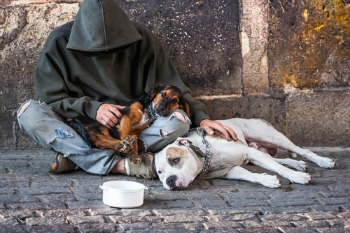 The Government has been urged to commit £100m to councils in a bid to end rough sleeping in England.
A report published by the Housing, Communities and Local Government Committee today has said there is a 'golden opportunity' to capitalise on the coronavirus lockdown measures that have seen 90% of rough sleepers taken off the streets and provided with accommodation.
The committee of MPs has proposed a housing-based 'exit strategy' with £100m annual funding for councils to accommodate people and provide additional support services along similar lines to the 'Housing First' pilots.
Working with the Local Government Association (LGA), grant funding and extension of Right to Buy receipts to 100% and a five-year time limit would enable councils to provide supported housing
The report also calls for the Government to compensate councils for support provided to those with no recourse to public funds during the COVID-19 pandemic on 'humanitarian grounds'.
Committee chair Clive Betts said: 'In our report we have called on the Government to grasp the golden opportunity that has presented itself.
'For the first time in over a decade, rough sleepers have been comprehensively taken off the streets and given accommodation. This must become the new norm.'
The committee also warns of a 'looming crisis' when the temporary ban on evictions in the private sector ends, with thousands of cash-strapped households in danger of homelessness, in addition to those in temporary accommodation potentially returning to the streets.
It has suggested enabling judges to remove eviction as a first resort for 12 months and guaranteeing Local Housing Allowance of 30% long-term.
Mr Betts added: 'In our interim report we have set out what the Government will need to do immediately in terms of funding, policy and legislation.
'There can be no question that we have to ensure no one is forced to live on the streets, we now expect the Government to put this achievable goal into long-term reality.'
The committee has asked the Government to provide a response by June 12.
The LGA's housing spokesman Cllr David Renard said: 'It has been a monumental effort by councils to get most rough sleepers and homeless people off the streets.
'Councils want to take this opportunity to change the lives of our most vulnerable residents and stand ready to work with government on a national plan to move people into safe housing with access to wider support they might need for substance dependency and help with benefits, skills and getting work.
The report has also been backed by local authorities in London, which accounts for two-thirds of the homeless households in England.
Cllr Darren Rodwell, London Councils' executive member for housing and planning, said: 'An end to rough sleeping is within our grasp – but it requires urgent action from the government, including a range of policy measures and investment in frontline services.
'Boroughs urge ministers to take note of this crucial report and its recommendations. Unless a comprehensive strategy is put in place soon, we risk rough sleepers returning to the streets – and no-one wants to see that.'
Cllr Giles Archibald, the District Councils' Network's Better Lives spokesman, added: 'Any new funding to support the supply of adequate accommodation for rough sleepers once the pandemic is over needs to also be accompanied by other long-term measures to prevent homelessness.'
A spokeswoman for the Ministry of Housing, Communities and Local Government said: 'This Government is committed to ending rough sleeping. Councils should be proud of their efforts to get rough sleepers off the street.
"We've been clear councils must continue to provide safe accommodation - backed by an unprecedented £3.2 billion package of government support.
'Our new rough sleeping taskforce - spearheaded by Dame Louise Casey - has one overriding objective: to ensure that as many people as possible who have been brought in off the streets in this pandemic do not return to the streets. It will work closely with councils and charities to give the long-term support they need to rebuild their lives and move into stable, long term accommodation.
'We also introduced significant measures to protect tenants from eviction during this pandemic. We will keep these measures under review as the public health situation changes.'