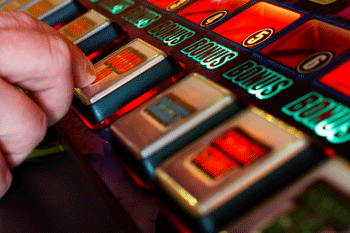 Powers over local gambling proposed for Scotland must now be devolved to councils in England as well, town hall chiefs have said.
With the Smith Commission report recommending the Scottish Parliament takes control over its own gambling policy and legislation, the Local Government Association (LGA) has called for England's town halls to receive powers to tackle betting shop clustering and high stakes fixed off betting terminal (FOBT) machines.
A historic 93 councils united last month to lodge a Sustainable Communities Act proposals that calls for the reduction of the maximum bet per spin on FOBTs at on-street betting shops to be reduced from £100 to £2.
The LGA has also called for the introduction of cumulative impact tests on new betting shops, which would allow town halls to reject new applications where clusters already exist.
Cllr Tony Page, LGA licensing spokesman, also called for laws to be updated to allow councils to take into account health issues and anti-social behaviour concerns stemming from problem gambling when considering licensing applications.
'Concerns about betting shop clustering and proliferation of high-stake FOBTs do not stop at the border. English councils must be handed the same powers being promised to their Scottish counterparts to tackle these issues,' Cllr Page said.
'There is a real fear that vulnerable people are losing money they can't afford through FOBTs, particularly in deprived areas. While reducing FOBT stakes on their own won't fully protect people from gambling away large amounts of money, bringing stakes in line with other gaming machines in betting shops would be a step in the right direction.
'Councils ultimately need tougher powers to enable them to support local high streets and economies through ensuring diverse high streets,' he added.