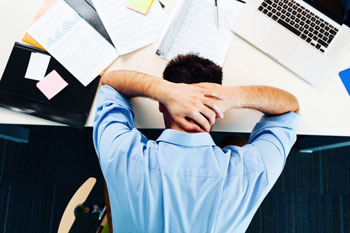 Almost four in 10 central Government and county council employees have financial worries, a fact that affects their work performance and mental health.
The survey by Salary Finance saw 38% of people working in county councils and Government reporting financial worries, with 47% suffering stress, 25% feeling more prone to panic attacks, and 20% feeling depressed.
The survey of over 10,000 people working in 25 sectors also found that the respondents spent an average of 1.9 hours each week worrying about money.
Around 15% also stated their work quality was affected by financial worries, and 17% reported not finishing daily tasks as a result.
The research showed little correlation between rates of pay and levels of financial worry. 49% of those earning over £100,000 a year had money worries, compared with 40% of people overall.
'This research shows that personal money worries are having a real impact on employee wellbeing and performance, as well as business productivity,' said Asesh Sarkar, co-founder and CEO of Salary Finance.
Mr Sarkar said that higher levels of financial literacy and access to responsible finance had 'the potential to improve the situation.'
'Government and county council employers are in a unique position to provide support on both fronts, through financial education, salary-deducted savings and loans, to help employees increase their financial fitness and ultimately get their finances in shape,' he said.
'The added dividend for businesses comes in the form of a healthier and more productive workforce.'