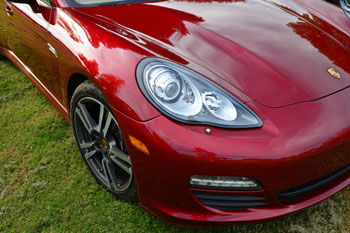 A former council chief executive at the centre of a pensions row was given a luxury Porsche to use as his company car.
Pembrokeshire Council confirmed to the BBC that the former chief was allowed to use the sports car after refusing to disclose the information while Bryn Parry-Jones was in office.
The hybrid electric Porsche Panamera used by Parry-Jones is thought to retail at around £90,000.
The former chief was embroiled in controversy at the beginning of this year after auditors warned pensions payments made to senior officers had been 'unlawful'. However a police investigation concluded that no further action should be taken.
Pembrokeshire was later forced to slash Parry-Jones' severance payment by £52,760 to just over £277,000 after the Welsh Audit Office ordered the settlement to be shrunk.
Prior to leaving his post, it is thought Parry-Jones was the highest paid local authority chief in Wales.
A council spokesperson said: 'Mr Bryn Parry-Jones was entitled to a lease car as part of his remuneration package. He took delivery of the vehicle during March, 2014. His employment was terminated on 31st October, 2014, and the car was returned to the lease company.'
Parry-Jones was unable to be reached for comment.
Photo: Richard Thornton/Shutterstock.com