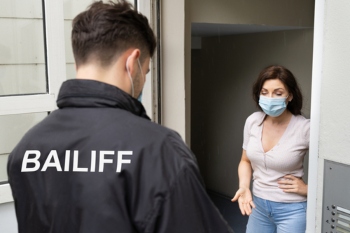 A new partnership between bailiff companies and charities has been launched to help families facing a 'tidal wave' of debt due to the pandemic.
The initiative, engineered by the Centre for Social Justice (CSJ), will ensure people caught in a Covid debt crisis do not face unfair treatment by bailiffs.
A new independent body – the Enforcement Conduct Authority (ECA) – will help stop harmful debt collection tactics and support vulnerable people in arrears.
Analysis of official data by the CSJ shows outstanding council tax has reached £4.4bn, an increase of 24% in the past year.
Andy Cook, chief executive of the CSJ, said: 'Britain faces a tidal wave of national and individual debt, increased by the economic challenges of containing a pandemic.
'Problem debt ruins lives. It tears families apart, places a strain on employment, and can even lead people down a path to alcohol and substance dependency.
'The Enforcement Conduct Authority developed by the CSJ with the debt advice and enforcement sectors will empower bailiffs to carry out their duty to courts, creditors and taxpayers fairly, while equipping them with the tools to support vulnerable people on a sustainable journey out of debt.'
The new body will introduce measures to address inconsistent and inappropriate enforcement agent behaviour, reform the complaints system, and change how people experiencing hardship or other vulnerabilities will be treated.
Peter Tutton, head of policy, research and public affairs at StepChange Debt Charity, said: 'In the absence of statutory regulation, this pragmatic collaboration between the debt advice sector and the enforcement sector to establish a regulator with meaningful powers should help to address the poor practice that has previously characterised too many people's experience with bailiffs.'