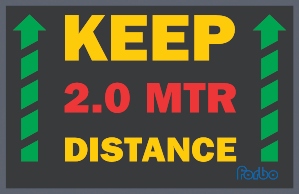 As some form of social distancing restriction is likely to remain in place for the foreseeable future, Forbo Flooring Systems has launched a range of entrance flooring mats, which have been designed to provide a gentle reminder to people to keep their distance.
There is a choice of four clear and informative designs to choose from, which are offered at a special price.
Janet Lowe, Head of Marketing UK & Ireland at Forbo Flooring Systems, commented: "With the whole world having to adjust their lives to remain safe and prevent the spread of COVID-19, we understand the concerns and complexities that now exist as a result of this, including social distancing. While many people will stick to the guidelines, some may need a little reminder – especially when the Government starts to slowly lift lockdown, but still want people to keep their distance.
"Therefore, our new Coral Logo entrance mats have been developed as a way to help keep people safe by encouraging social distancing and preventing unnecessary slips."
Forbo's Coral Logo collection delivers the same standards as its regular Coral entrance flooring, which means it will retain its looks while preventing dirt and moisture being traipsed inside from the outdoors, protecting interior floor finishes and helping to prevent slips.
For more information about Forbo's Coral Logo range, please visit www.forbo-flooring.co.uk/covid or to make an order, contact Forbo's Customer Service Department.