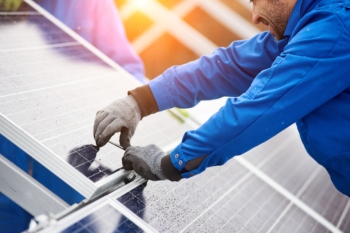 The majority of MPs questioned in a recent YouGov survey do not believe Government policy goes far enough when it comes to the installation of renewable heating technologies for homes.
The survey of 100 MPs, commissioned by the MCS Charitable Foundation, found that more than half (56%) agree that a green energy retrofit should be made a priority for the UK's 29 million existing homes.
The poll also revealed that more than three quarters of the MPs (77%) believe that small-scale renewables, such as solar PV, solar thermal and heat pumps, should be incorporated into all new build properties from 2022.
The removal of VAT on all domestic renewables and energy efficiency measures for 10 years was also supported by almost half of the MPs questioned (46%).
Less than half of MPs questioned believe that the Government is doing enough to meet net-zero targets and that there was support for new regulations requiring all new homes to meet this standard by 2023.
Currently, 20% of carbon emissions, mainly from gas boilers, are produced by the UK's existing housing stock.
To meet the UN's carbon emissions targets homes must be retrofitted with renewable heat technology at a rate of nearly two per minute up to 2050, according to the Committee on Climate Change, the statutory body advising the Government on the climate crisis.
'If the Government is serious about meeting emissions reduction targets, the decarbonisation of our current and future homes must urgently move up the political agenda, backed by robust legislation,' said David Cowdrey, director of external affairs at MCS.
'Less than half of the MPs polled believe the Government is delivering on this, sending a clear message that they need to take decisive action, with the Treasury committing funding, to accelerate the home heating revolution.'
Responding to the report, Cllr David Renard, Local Government Association (LGA) housing and environment spokesperson, said: 'As the COP26 agreement recognised, local government has a fundamental role to play in tackling climate change.
'We have set out ambitious proposals for councils to be given the right powers and investment to retrofit over 1,000 homes a day with low-carbon efficiency measures by 2030, which could reduce energy bills by nearly £700m a year. This could be a significant step towards the Government's ambition of achieving net-zero.
'By targeting heat pump deployment through council-owned stock, this would also provide certainty and confidence in the market and help develop the supply chain.'