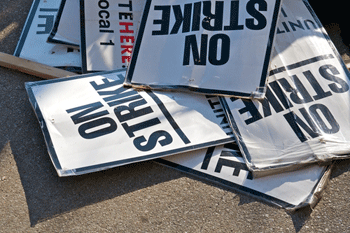 Workers at Care UK in Doncaster have begun a two-week strike in a protest over pay.
The care provider, which took over services from the council last year, has been accused of refusing to discuss the issue with staff, a number of whom transferred across from Doncaster MBC.
Unison members have asked Care UK to increase the minimum starting rate from £7 to £7.65 per hour – the national living wage outside London.
Jim Bell, Unison's Yorkshire and Humberside regional organiser, said: 'This company should hang its head in shame for profiting from public sector, taxpayer-funded contracts at the same time as paying its basic grade staff so badly that many of them have to claim taxpayer-funded in-work benefits to survive.'
Care UK's director of learning disability services Chris Hindle, said: 'Care UK is deeply disappointed that Unison has called a strike over a completely new dispute within Doncaster's learning disability service, despite the vast majority of colleagues accepting the revised terms and conditions opposed by the union.
'More than 90% of colleagues transferring to Care UK have now accepted the revised terms and conditions necessary to put the service on a sustainable footing, including receipt of a transitional payment equivalent to up to 14 months difference in earnings. This is a substantial step forward, which we had hoped would allow everyone to focus on improving the service to better meet the needs of services users.
'The changes we have proposed and which have been largely accepted have protected jobs, protected generous final salary pension rights, protected basic pay and protected future pay increment increases.'