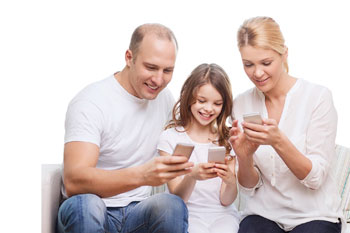 Normal Mobile Phone Services simply aren't suitable for younger children, or those with special needs.
This was the belief that drove the founders of Stenson based Engine Mobile Ltd. to develop ParentShield, a unique and powerful Mobile Phone Network for Children only.
"What we set out to develop in ParentShield wasn't a 'cut-down' "my-first-mobile" service, but a Network with every possible powerful child-protection feature built in that we could. Basically all the things that the major Networks either wouldn't or couldn't do", says Graham Tyers, one of the Company's founding directors.
"We wanted from the outset to build in powerful monitoring capabilities - such as call recording and SMS recording, as well as automatic word alerts. Controls such as time settings that will stop the phone being used to make calls or send texts outside set hours were logical extensions that came shortly after" he added.
In the network's most restrictive 'Ultra Secure Mode' any unlocked phone can only call or text, or be called or be texted by up to two 'Home Numbers' - effectively turning a mobile phone into a personal safety device that can only call home, or the emergency services.
"Once we started designing the Network", Graham continued, "it was clear that there were many protective features that we could add. All customers have access to an online portal that allows them to see and hear all the calls and texts, set various levels of protection and even turn mobile data on and off remotely without touching the phone. It's important to us that the phone user has a totally-normal user experience."

The company is what is known in the Mobile Industry as an MVNO - a Virtual Mobile Network Operator, and provides SIM cards that actually roam across all of the major networks. If a signal is available from EE, O2 or Vodafone, the ParentShield SIMS will roam onto that network. This provides a super-network that is virtually devoid of 'not-spots'; something that is a clear safety and practical benefit for any user.
The Company offers three tariffs - all with bundled calls and SMS, and the ability to use Mobile Data starting at £9.99 per month and ranging up to the Unlimited Safe Plan + package at £19.99
"What we love most has been the reception from customers", says Graham. "People really don't believe that some of the things we have built in to the Network would even be possible. When we demonstrate what it does, it really does surprise people."
For the future the Company, based in Stenson, has plans to develop even more innovative mobile phone services for other special requirements, but for now their focus is firmly on Child Protection and services that allow children, even as young as 5 to safely use a mobile phone.
For more details call 0330 122 1180 - or find details at the company's website: www.parentshield.co.uk