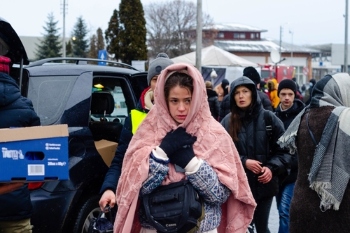 Councils are struggling to prepare for the arrival of refugees due to a lack of quality data, MPs have been told.
Local Government Association (LGA) chair Cllr James Jamieson said checks on accommodation and security were only being carried out after visas had been issued as a result.
The sector is receiving no data or funding for arrivals via the family scheme, which make up most of refugees in the country currently, he told the Levelling Up, Housing and Communities Select Committee.
Cllr Jamieson said the data councils receive on Homes for Ukraine was incomplete and contained duplicates, and requested more data on registered sponsors to 'get ahead of the game'.
Also appearing before the committee, refugees minister Lord Harrington said: 'The system itself is not so easy to pre-organise but we will get better at it. This is not a perfect scheme, we have not got everything right.'
Catherine Frances, director general of local government in Whitehall, added: 'We are looking at the data and what we can most effectively give to local government to help them plan.'
She said the department was also looking at sending data direct to lower tier councils in some areas, rather than via upper tiers.
Cllr Jamieson also raised the issue of Ukrainian refugees being presented to councils as homeless, meaning accommodation had to be sourced by the authority.
An LGA survey of councils has so far found 57 authorities were dealing with 144 cases of homelessness.
Of those, 36 had entered the country via the sponsor scheme, but some refugees had entered the country via Ireland.
Lord Harrington admitted the issue was a concern.
'It could in fact become the norm that people find out you can do this. I hope it won't – I think that would be quite cynical. That's why we need to keep it under review,' he said.
Ms Frances hinted further resources could be offered if the situation worsened.
She told the committee: 'We are working with local authorities, under review. We need to see what their caseload comes to in terms of homelessness for any route into the UK, as we do more widely looking at homelessness burdens.'
Cllr Jamieson said a new scheme was needed as the existing one was 'frankly at breaking point' and would leave refugees 'waiting at the border for three or four months'.
However, he warned there would be 'compromises' and checks would not be 'to the same standard as normal - that is not compatible with a light-touch, fast regime'.
He added: 'Something will go wrong, but the risks people will face in the UK is far less than in the Ukraine.'
Therefore councils would need 'legal cover for when it doesn't quite go right'.
Responding to issues around gaps in guidance, particularly around accommodation checks, Ms Frances said: 'We acknowledge it's not always perfect, but that is to do with pace – this is a new scheme.'
Lord Harrington added: 'We can't be too prescriptive we've got to have flexibility because it's a sponsorship programme. I think what we call light touch we've got the right balance.'