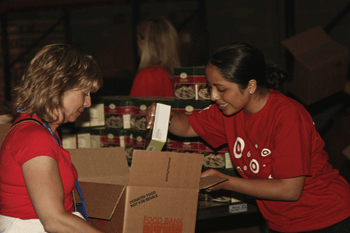 The Government is 'in denial' about rising food bank use and 'ignoring' problems caused by welfare reform – Scottish MPs have said.
A report from the Scottish Parliament's Welfare Reform Committee has concluded recent changes to welfare are a 'significant cause' of rising demand experienced by providers of food aid, pointing to a 400% increase in the number people receiving assistance in the past year.
Members of the committee urged the DWP 'to own up to the role it is playing' in causing increasing food bank demand and 'stop pretending this is simply all about people looking for something for nothing'.
Michael McMahon, convenor of the committee, said Government attitudes towards food bank users were 'insulting'.
'The UK Government can no longer ignore the evidence that their welfare reforms are having a real impact on people's ability to feed themselves. There can be no place for this in a modern, prosperous nation, just as there should be no need for food banks,' McMahon said.
Deputy committee convener, Jamie Hepburn, said the DWP was 'pushing people to the brink – and often beyond'.
Commenting on the committee's findings, a DWP spokesman said the report 'isn't based on solid evidence, but on the opinions of those interviewed'.
'The truth is that employment is going up, benefits are being paid to claimants more quickly and independent experts tell us that there are fewer people struggling with their food bills compared with a few years ago. The Trussell Trust and other foodbanks agree that increased awareness has helped to explain their recent growth,' the spokesman added.
'We spend £94bn a year on working age benefits and the welfare system provides a safety net that supports millions of people who are on low incomes or unemployed.'