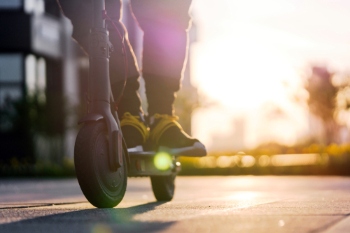 An e-scooter trial in Coventry has been paused after reports that some users have been riding the scooters on pavements.
Coventry City Council said that the e-scooters have been 'extremely popular', with around 5,000 rides being taken in the first few days of the trial, which was rolled out last week.
However, there were reports over the weekend that e-scooters had been used in pedestrianised areas where they are not permitted to be.
As a result, the council and the rental operators, Voi, have decided to pause the scheme.
'The trial has been introduced to identify the safest way that e-scooters can be used going forward so it's right to pause the scheme if concerns are being raised,' said a council spokesperson.
'The initial take-up has been encouraging but we need to ensure that the safety of all people using the city centre is protected and that the e-scooters are used in the proper way, hence our decision to pause the pilot until systems are improved.'
The Government originally planned to run the trial in a number of cities in 2021. However, due to the impact of Covid-19 social distancing measures and an increase in active travel, it amended legislation to legalise the use of e-scooters as part of a rental scheme.
In Coventry, the trial was to take place in the city centre, Coventry University campus and at the University of Warwick.
Voi was chosen to be the single operator across the West Midlands for the rental scheme. It has won contracts to operate in other towns and cities including Cambridge, Peterborough and Northampton.
Commenting on the decision to pause the trial, a spokesperson for Voi said: 'While we regret the pause to our service, we reiterate our desire and willingness to work with all local stakeholders to deliver a safe and successful trial that meets the council's objectives and confirms micromobility as a sustainable, safe and attractive mode for Coventry's citizens.
'We look forward to resuming the service with enhanced measures in place to address the early observations from the trial.'