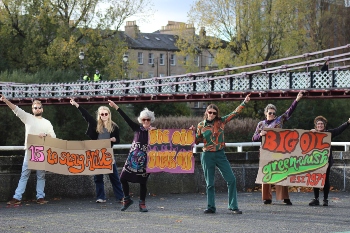 Campaigners are staging protests across the UK today, calling for councils to divest pension funds from fossil fuels.
The demonstrations have been planned to coincide with COP26, and will include a 70s-themed protest in Glasgow to call on Strathclyde Pension Fund to end its £800m investment in fossil fuels.
A report from Friends of the Earth and campaign group Platform shows councils invest around £10bn in fossil fuels through their pension funds.
The analysis shows that fossil fuels represent 3% of the total value of the Local Government Pension Scheme (LGPS).
Rianna Gargiulo, divestment campaigner at Friends of the Earth, said: 'While the planet burns, the flames are being fanned by local authority pension funds which have billions of pounds invested in climate-wrecking fossil fuels.
'Councils must play their part in protecting the long-term future of their employees by ending their support for gas, coal and oil, and investing in building a cleaner, safer future for us all.'