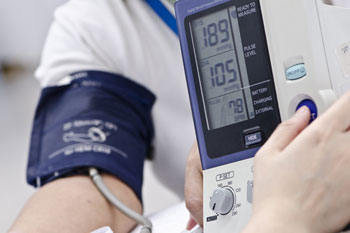 More people are having a free NHS health check since local authorities took over the responsibility for delivering them, new figures have revealed.
Figures from Public Health England (PHE) show a 7.9% increase in the number of people from high-risk groups who were offered checks in the past year compared to 2013/14, with the number of people having the check also increasing by 7.4%.
The Local Government Association (LGA) said councils have been working hard to target hard to reach groups across the country
Cllr Izzi Seccombe, chairman of the LGA's Community Wellbeing Board, said: 'Evidence suggests that medium or high-risk individuals are less likely to be regular users of health services, so using primary care alone to drive the programme is not enough.
'Councils have successfully worked with communities and individuals most at risk to improve their health and lower the risk of developing serious but preventable conditions.
The LGA highlighted several best practice examples such as Leeds City Council identifying eligible candidates in 42 GP practices in deprived areas. Buckinghamshire County Council also carried out outreach work in places like mosques and football clubs to target men, particularly those from ethnic minorities.