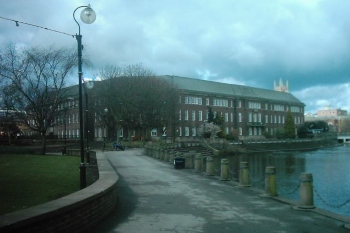 Derby City Council and Nottingham City Council have submitted a bid for over £100m funding to enhance transport links between the two cities.
The councils have made the bid to the second phase of the Transforming Cities Fund, which aims to improve connections between major employment sites.
The plans include setting up Derby's first dedicated mass transit link, with the provision of a high quality electric Rapid Transit (eRT) route that would run directly across the city centre.
It also proposes three new 'smart' park and ride hubs with improved cycling and public transport links, upgraded RTI, and waiting and electricity charging facilities. A demand responsive transport service would also link the city centre and rail station to key employment sites.
Cllr Matthew Holmes, deputy leader and cabinet member for planning, regeneration and transport at Derby City Council, said: 'The council has been determined to make this a truly ambitious bid, demonstrating that Derby is ready to transform transport across the City area and enhance the links between Derby and Nottingham.
'The economic benefits will be huge for both cities because this level of investment offers the chance to implement some really exciting changes, bringing mass transit to the city, and creating public transport innovations and transport experiences.