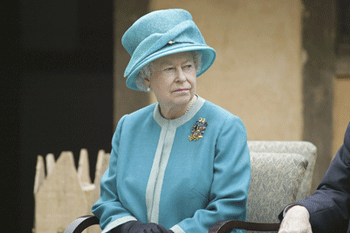 Councils across the country are celebrating the Queen's 90th birthday in style today, with more than a thousand beacons being lit to mark the occasion.
The beacons will be lit at churches, castles, country parks, beaches and village greens nationwide, with one even appearing at the top of Snowdon. The Queen herself will light the Principal Beacon at Windsor Castle.
Lord Porter, chairman of the Local Government Association, said: 'Bringing communities together is something councils see as one of their key roles so it's fantastic that Her Majesty's birthday looks set to see people everywhere coming together.
'Councils will be central to the celebrations with hundreds of beacons being lit and themed entertainment days taking place across the country.
Councils are also reporting a surge in applications to hold street parties for the main celebration in June, with many waiving road closure fees and offering cash grants to local communities.
Lord Porter added: 'Councils are already starting to take applications to hold street parties for the Queen's official birthday in June. Britain's street party tradition has been well and truly resurrected and people are already planning to dust down their fold-out tables and unpack the bunting.'