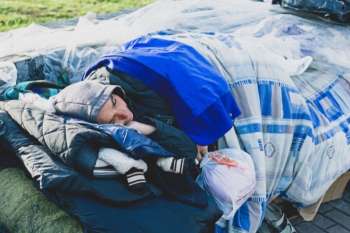 English councils have been asked to 'redouble their efforts' to help accommodate people sleeping rough, with the Government finding an additional £10m funding.
The £10m investment, which comes amid rising infection rates, builds on more than £700m government spending on homelessness and rough sleeping?this financial year.
Under the latest plan, local authorities will be asked to?'reach out again' to rough sleepers who have previously refused help.
Chief executive of homelessness charity Crisis, Jon Sparkes, said: 'These renewed efforts to protect people who are homeless in the pandemic will save lives.
'The highly infectious new strain of coronavirus alongside the cold weather makes this the most dangerous moment of the pandemic for those without a home.'
The Government's Everyone In programme, launched at the start of the pandemic, has supported around 33,000 people, with nearly 10,000 in emergency accommodation and more than 23,000 moved on into longer-term accommodation.
A recent study showed that Everyone In avoided 266 deaths among England's homeless population during the first wave of the pandemic, as well as 21,092 infections, 1,164 hospital admissions and 338 admissions to intensive care units.