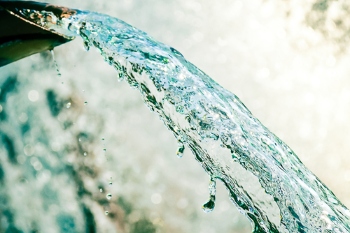 A new environmental scheme in Leicestershire will see plants and artificially created salt marshes being used to clean oils, diesel and chemicals in water collected from road gullies.
Leicestershire County Council has set up a 'living water' operation at one of its depots to treat water it collects from drains before it is fed into a local river.
Tankers will collect the water and take it to the depot where it will be placed into bays. A weir system will then allow the water to drain through straw which acts as a natural filter, removing a high percentage of oils, hydrocarbons, salts and silt.
The water is then passed through three engineered ponds where salt marsh plants and the bacteria and micro-organisms that live in them remove the remaining pollutants. This clean water then flows into the Broughton Astley Brook which feeds into the River Soar.
Any solid remnant waste such as stones, sand, metals, and plastics is removed and recycled, and then used in land restoration projects.
Cllr Ozzy O' Shea, cabinet member for highways and transport, commented: 'Cleaning this water using completely natural, chemical-free process not only prioritises protecting our Leicestershire environment while maintaining our drainage system, but it also saves money for the council by dealing with this process ourselves.'
Cllr Blake Pain, cabinet member for the environment and the green agenda, said: 'We have an ambitious green agenda. Putting in place innovative schemes such as the living water initiative at Croft is one example of the huge steps we are taking towards reducing the environmental impact we have as a council.
'Helping to replenish the water cycle is incredibly important, not only for Leicestershire's wildlife but also our rivers, streams and the ecosystems that live within them. To take something which was once waste and repurpose it and make it beneficial for the environment is a huge achievement.'