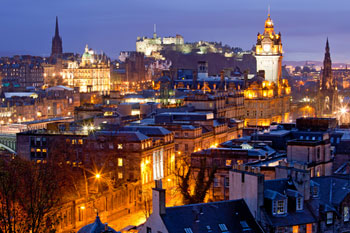 Edinburgh Council will upgrade the city's street lights in a move that will save an estimated £77m over the next 20 years.
The council has agreed on proposals to convert 54,000 street lights to energy-efficient LEDs (Light Emitting Diodes), a decision that comes after 7,000 of them were tested last year.
The 2014 trial run — the White Light Project — enabled the council's street lighting section to formulate a sound business case for a city-wide roll out of LEDs. This included a comparison between a 'do nothing' scenario and a change to LEDs over a 20 year period.
The results revealed an estimated £77m difference between the two, calculated on maintenance savings and reduced energy use.
Responding to last years trial, a number of residents voiced their concerns over the lights being too dim. This resulted in the proposed installation of brighter LEDs with the facility to remotely adjust lighting levels where necessary.
Cllr Lesley Hinds, the transport and environment convener, said: 'The city-wide roll-out of LED lights is a huge step towards an efficient, sustainable future for Edinburgh. Not only will it reduce carbon emissions but will have a real impact on energy costs in the long term.'
'Our aim,' she added, 'is to draw on experience gained from the first phase of white lights which has allowed us to gauge demands on lamp brightness and control for residents and traffic.'