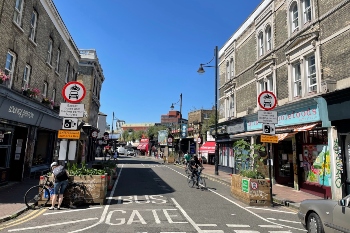 Lambeth Council has been forced to install security measures after vandals targeted its Low Traffic Neighbourhood schemes.
The council has installed CCTV and set up more council patrols and extra police visits after signage and community plantings were vandalised.
The council warned the criminal damage could see the trial period extended and delay the planned public consultation.
Cllr Danny Adilypour, the council's joint cabinet member for sustainable transport, environment & clean air, said: 'People are entitled to express their views over our Low Traffic Neighbourhood trials, but there is no excuse for acts of criminal vandalism which put our residents at risk and this is not an effective way to engage with the council or fellow residents.
'Residents who oppose the schemes or would like to see improvements have many ways to constructively engage with the council, and we're actively seeking their feedback. Vandalism poses a danger to the public, is criminal and will be treated as such.'
A legal challenge against the council's low traffic neighbourhoods was recently rejected by the high court, who ruled the schemes were a 'a genuine experiment' in response to the pandemic.
Photo: Lambeth Council