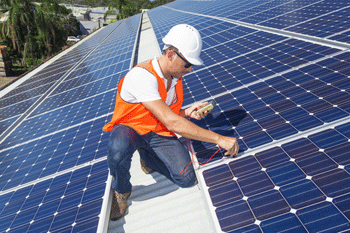 Swindon has launched the UK's first ever 'Council Solar Bond' in order to pay for a community solar farm.
Swindon Borough Council, in partnership with peer-to-peer investment platform Abundance, has created the bond in order to bring together local residents and small investors from across the country to invest in the Swindon community solar farm.
The farm, which will be managed by council-owned Swindon Common Farm Solar CIC, will cost £4.8m to build, with £3m coming from the council's investment, and the remaining £1.8m from small investors locally and across the country.
The minimum stake will be £5 and all investors will benefit from an effective rate of return of 6%, paid in cash twice yearly in instalments of capital and return. It is also inherently less risky to invest alongside the council.
The solar farm will help Swindon in its aim to install 200MW of renewable capacity by 2020, enough to meet the equivalent energy requirements of every home in the Borough.
Cllr Dale Heenan, Swindon Borough Council cabinet member for transport and sustainability, said: 'For years, companies have been trying to find ways to make investing more accessible and understandable.
'Swindon's Solar Bonds provide an opportunity for people invest as little as £5 or more than £5,000, and enjoy better returns than their bank provides as they invest for their children's future, their own retirement or just a rainy day.'
He added: 'Our approach is democratic finance in action, and the combination of personal benefit, environment issues and community involvement provides a topical way to catch imaginations, and help improve personal finance skills in a simple, easily understood way.'