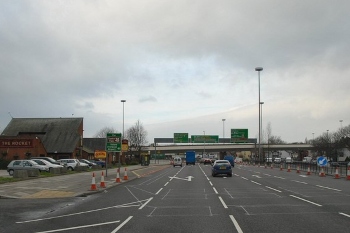 Liverpool City Council has submitted proposals to the Government outlining its plans to radically redesign one of the city's major junctions as part of a wider bid to boost transport in the North.
The Rocket Junction is the busiest in the city region with over 100,000 vehicles travelling through it every day. It connects the start of the M62, with the A5080 and the A5058 Queens Drive.
The £120m transformation plan includes proposals to demolish the existing Queens Drive Flyover and replace it with a new roundabout, featuring a dual lane underpass.
The existing signalised junction will be changed to include a traffic signal- controlled gyratory with provision for through traffic travelling north/south on Queens Drive.
The Queens Drive Viaduct will also be upgraded after physical signs of weakness were detected.
Liverpool City Council argues the planned upgrades to the junction will reduce congestion and greenhouse gas emissions, and improve the length and reliability of journey times.
'In its current state the Rocket junction is causing commuter misery every single day and by its flawed design is causing congestion and contributing to greater air pollution,' Mayor of Liverpool Joe Anderson said.
The bid to the Department for Transport is for £92m with Liverpool City Council contributing the remainder via its £500m Better Roads programme. If approved, it is anticipated works for the scheme would begin in 2023.
'We need the M62 to work for Liverpool and the wider city region – for our economy and our environment,' Mayor Anderson continued.
'This scheme needs a huge amount of development and consultation to get it to the stage of delivering it but if the Government is serious about investing in the Northern Powerhouse, this is a scheme that will certainly unleash huge benefits for all concerned be they commuters, businesses, residents and visitors to our city.'
Transport for the North has included the city council's scheme as one of four major projects within a £700m programme of works that have been identified as critical to the economic growth of the north of England.
Peter Molyneux, major roads director at Transport for the North, commented: 'As part of our pan-Northern bid for £700 million of investment in our roads, we're pleased to put forward for funding the upgrade scheme for the Rocket Junction, working in partnership with Liverpool City Council.
'As the busiest junction in Liverpool, with more than 100,000 vehicles travelling through it each day, this is a pivotal project that will have wide-reaching benefits for people and businesses.
'As well as bringing journey times down locally it will also have a positive impact on the wider motorway network and support the city's ambitious growth plans.'