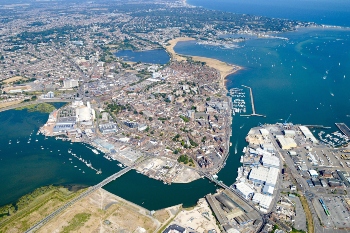 Bournemouth, Christchurch and Poole Council has launched a new placemaking company to drive forward stewardship-led regeneration.
FuturePlaces will aim to transform stalled sites across the city region and put placemaking at the heart of the regeneration process through long-term investment.
It will have an initial portfolio of 14 regeneration sites with a combined gross development value exceeding £2.8bn.
The council was one of the first local authorities to adopt the stewardship-led approach identified in the Government's Building Better Building Beautiful Commission.
Gail Mayhew, managing director of FuturePlaces, said: 'The stewardship approach is based on historic precedents which delivered some of the most popular inner urban areas around the UK, and which has been translated by an increasing group of long-term landowners and investors into contemporary practice.
'By engaging stakeholders with a longer-term interest in a place, and by funding infrastructure and placemaking with longer term patient capital, we can secure better outcomes for places and people. Ultimately the aim is to shift the emphasis from value extraction in the short term, to value creation – economic, social, and environmental – over the long term.'