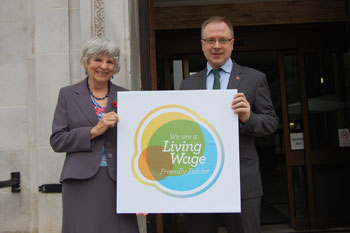 A London borough has become the first council in the country to ensure any charities or voluntary groups it gives funding to pays a Living Wage to their employees.
Islington Council is the first to be awarded 'Friendly Funder' status by the Living Wage Foundation and Citizens UK.
This means that charities and voluntary organisations in the borough will only receive funding from the council's core grants programme if their pay a Living Wage salary to all staff.
Islington Council's executive member for finance and performance, Cllr Andy Hull, said: 'In Islington, we believe that no-one should have to do a hard day's work – whether for the council, a local business, football club, or charity – for less than they can live on.
'But we cannot achieve this vision alone. While we have made great progress in recent years, we need every employer in Islington to come on board and do the right thing.'
In 2012, Islington was the joint-first local authority to be accredited as a Living Wage employer, and now all council staff and 98% of its contracted staff are now paid at least the London Living Wage.