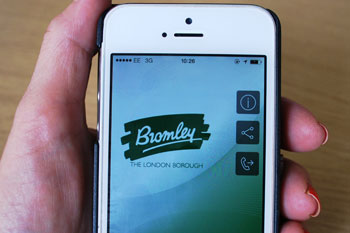 Bromley Council are ahead of the curve as the first council to introduce an app so people can report suspected fraud directly to the council.
The free app can also be used to provide up-to-date information about different types of fraud, alerting local residents to scams.
Available to download for Apple and Android mobile devices, the app was was developed after it was judged the most innovative idea in a recent round of anti-fraud funding from the Department of Communities and Local Government.
Executive councillor for resources, Graham Arthur, said: 'I am delighted Bromley is the first council to launch this cutting edge anti-fraud tool. By harnessing the power of technology we can provide a quick and easy way to communicate with residents as they work with us to make sure public funds are protected and only used for those in genuine need.
'The introduction of more online services is one way we can make the best use of resources and save our taxpayers money.
'The app also clearly demonstrates the determination of Bromley Council to continue to use every source of information available to help identify cheats.'
The plan is to now roll out the app for use in other boroughs across the country.