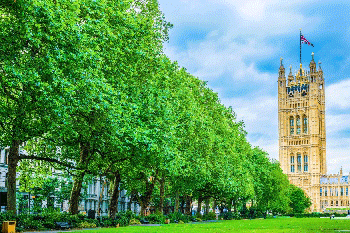 Plans for a Holocaust memorial next to the Houses of Parliament contravenes planning rules on size, design and location, city council says.
The council says it 'fully supports' the principle of the National Holocaust Memorial and Learning Centre. However the local authority's planning committee has raised concerns over the current proposal to be located in Victoria Tower Gardens.
A council planning meeting held yesterday said the current proposal was not appropriate for this location because of the 'potential impact' on the park's national heritage as well as the Houses of Parliament and Westminster Abbey.
They also raised concerns over the loss of 'valuable open, public green space' in a very busy location. The environmental impact was also taken into consideration.
'We absolutely understand the emotion and the depth of feeling that this issue engenders, and we think it is right that the secretary of state will make the final decision on this application,' said Cllr Robert Rigby, chairman of planning.
'We will put our own and our residents' views to him as part of the public inquiry that will inform their final decision.
'However, if it were Westminster City Council taking a decision on the application, it would have been refused on heritage grounds; the location in Victoria Tower Gardens, its size and design would cause considerable harm and would have a significant, detrimental impact on one of the few remaining green spaces on the Thames Embankment.
'We would have very likely accepted a proposal of much smaller scale in that park. But the issue is now in the secretary of state's hands to make the final decision and we will share the findings of the planning committee with him through the public inquiry.'
The memorial will be dedicated to the six million Jewish men, women and children murdered in the Holocaust and all other victims of the Nazis and their collaborators.
The Learning Centre will focus on the Holocaust and subsequent genocides and will educate future generations on the importance of fighting prejudice and persecution in all its forms.
Responding to the council's decision, communities secretary Robert Jenrick MP said: 'The Government remains implacably committed to the construction of the Holocaust Memorial and Education Centre right at the heart of our democracy, beside our national parliament to ensure that future generations never forget.
'No one, whether in national or local government should shirk their duty to deliver on the promise of this memorial, and the government certainly will not.'