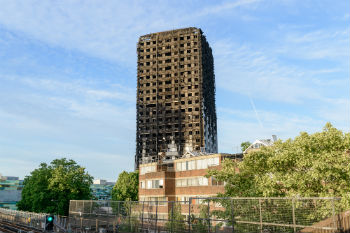 Local government leaders have welcomed new 'large scale' testing of cladding samples that failed safety tests in the wake of the Grenfell Tower disaster.
Local Government Association (LGA) chairman Lord Porter welcomed the 'much-needed changes' to the process and called for the new testing to be carried out urgently.
The new procedure announced by the Government will involve fixing complete cladding systems to a 30ft-high (9m) wall and subjecting them to a 'severe fire'.
It follows combustibility tests in which 190 samples out of 191 from about 600 tower blocks in England failed after the fire at Grenfell Tower in west London last month which killed at least 80 people.
Lord Porter said: 'We have been clear all along that entire cladding panels and the insulation behind them need to be fire tested together as a system rather than just the core of the panels on their own.'
'The fire at Grenfell Tower has been an unimaginable tragedy,' he added.
'This continues to be a hugely difficult time for communities but it is vital that we get this right.'
Image: C. Hoyer / Shutterstock.com.