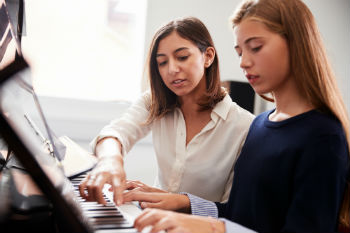 Local authority leaders have warned that music lessons will be 'under threat' unless the Government commits to covering the cost of a pay rise for music teachers.
Whitehall announced over the summer that it would fully fund a pay rise for all classroom teachers.
However, it has since come to light that this will not apply to centrally employed teachers (CETs), the majority of which are council employees who provide music tuition.
The Local Government Association (LGA) yesterday called on the Government to assure councils that it will meet the cost of the additional 1 to 2.5% salary rise for CETs, estimated to be £5.5m.
Already over-stretched councils currently face a £3.9bn funding black hole in 2019/20 and have not budgeted for this unexpected cost.
Cllr Anntoinette Bramble, chair of the LGA's Children and Young People Board, said councils were 'already under massive financial pressure' with many services 'overstretched.'
'The UK has a proud history of musical excellence and many of the most well-known artists in the world over time would have benefited from music lessons,' she said.
'For many young people, it is a vital part of their education and future life opportunities, but this could be at risk unless the Government commits to fully funding the pay increase for all classroom teachers, including music teachers.
'While we were pleased that the Government announced that it would fully fund a pay increase for teachers in the summer, it needs to extend this to fund the pay rise for centrally employed teachers, such as those providing music tuition.'