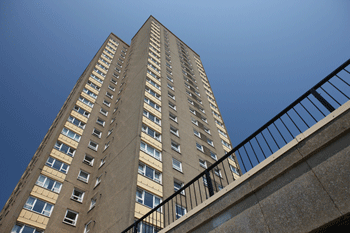 Salford City Council yesterday confirmed it will borrow up to £25m to improve the fire safety of nine council-owned tower blocks.
Twenty-nine properties in Salford have ACM cladding that failed checks after the Grenfell Tower fire in June.
A report recommended the authority use its borrowing powers to provide it with a temporary cash flow, a suggestion approved by councillors at a special meeting on Wednesday.
This money will be used for fire safety improvements on the nine tower blocks in Pendleton.
The council said the regeneration of the towers had been recently carried out under a PFI contract by Pendleton Together Operating Limited. It stressed it would not allow potential legal disputes to prevent essential works from being carried out.
'The regeneration work has been carried out under a PFI contract and whilst the council is not accepting liability for the works,' a council spokesperson said, 'we do believe that it is crucial that legal disputes do not prevent essential works being carried out.'
Mayor Paul Dennett said: 'This will be a strain on our resources but it is important that we respond effectively to address safety issues raised by the Grenfell Tower tragedy and we must do all in our power to ensure that a fire such as this never happens again.'