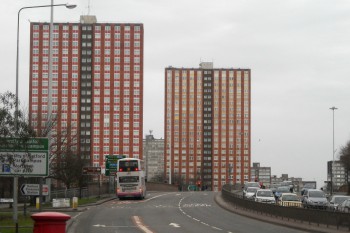 Salford City Council is to decide next week if it should borrow up to £25m to improve the fire safety of nine council-owned tower blocks.
A new report recommends the council uses its borrowing powers to replace the ACM cladding on tower blocks in Pendleton.
'We will not allow the lack of immediate funding to become a barrier to undertaking further essential fire safety works on the Pendleton tower blocks,' said the council's deputy city mayor, John Merry.
'We are asking for a decision to provide temporary funding so that works can continue to replace the ACM cladding as quickly as possible. The city mayor has made clear that the safety of residents is of paramount importance. So we're now taking the necessary steps to ensure works are undertaken.'
The council said the regeneration of the towers had been carried out under a PFI contract but it would not allow legal disputes to prevent essential works from being carried out.
It will decide on the extra funding at a special meeting on the 23 August.
City Mayor, Paul Dennett, added: 'This is not an easy time for local authorities – government cuts have taken a severe toll on council budgets. This will be a strain on our resources but it is important that we respond effectively to address safety issues raised by the Grenfell Tower tragedy and we must do all in our power to ensure that a fire such as this never happens again.'
In this week's MJ, Heather Jameson says it is time the Government stopped burying its head in the sand on complex social issues - especially in the wake of Grenfell.