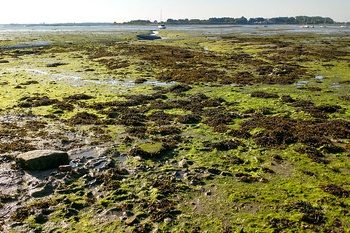 Havant Borough Council has become the first local authority to enable nitrate neutral regeneration and redevelopment.
Concerns over nitrate levels, which harm coastal feeding grounds, have impacted on planning applications for new homes along the Solent coastline.
In order to solve this issue, Havant Borough Council has worked with Natural England to develop a way to allow developers to offset the pollution caused by building new developments.
The borough council purchased a farm which will be transformed into a haven for overwintering waders and brent geese – and will be run at no cost to the council or its residents.
The coastal site will enhance the borough's internationally important coastline, and also help mitigate against rising nutrient levels across the area.
This novel approach enables new developments to calculate their nutrient levels, and access a cost-effective scheme to offset their impact.
Natural England chair, Tony Juniper, said: 'This is a beautiful part of Hampshire, rich with wetlands, coastal inlets and shingle beaches, and it's no wonder that more people wish to live in the area, creating demand for new homes.
'More people does, however, mean more nitrogen getting into the environment, and this is causing the growth of green algae 'mats' in the Solent, affecting protected habitats and wildlife along the south coast.
'This innovative new scheme that Natural England has helped design will not only help nature's recovery in the area, but also address the historic demand for new housing around the Solent.'
The leader of Havant Borough Council, Cllr Michael Wilson, added: 'I am delighted that our pioneering approach sees us as the first local authority in the country to tackle this issue head-on.
'Our innovative and original solution not only helps secure the long-term prosperity of our area - it will also create a nature reserve which will be a haven for wildlife and birds.
'We have worked extremely hard to find a way to protect our cherished environment and ensure the vital investment and development the borough needs can take place.
'By working so closely with our partners we have found a radical solution to what seemed, at first, to be a complex challenge. I'm proud to say our borough is very much open for business!'