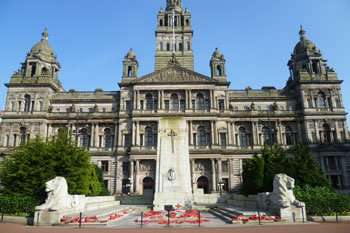 Glasgow City Council has been threatened with legal action over its failure to provide homeless people with temporary accommodation.
Shelter Scotland is accusing the council of breaking the law more than 3,000 times last year by failing to help vulnerable people.
The charity has warned it will be seeking a judicial review unless it addresses the' systemic failures' within its homelessness services.
'The facts are clear; Glasgow City Council is breaking the law; homeless people are being forced onto the streets; officials are unable or unwilling to tackle the problem; and the numbers are getting worse not better,' said Graeme Brown, director of Shelter Scotland.
He added: 'If the judicial review goes ahead then Shelter Scotland will ask the court to declare that Glasgow City Council are acting unlawfully and that they should prepare and submit to Scottish ministers a revised homelessness strategy that puts a plan in place to guarantee temporary accommodation for every homeless person that needs it.'
However, a spokesperson for the council said: 'It is untrue to state that 47 people died on the streets of Glasgow in a year, and Shelter know it.
'Their own letter also accepts that there may have been over reporting in Glasgow which demonstrates they know their accusation of gatekeeping is also untrue.
'As they are well aware, there are significant pressures on our homelessness accommodation service and we are working with the Scottish Housing Regulator and partners in the third and housing sectors to tackle these challenges.
'Rather than raising money for court action – it would be helpful if Shelter worked constructively with us, to tackle the pressing issue of homelessness. We share a common aim and threats of legal action are an unhelpful distraction to this crucial work.'