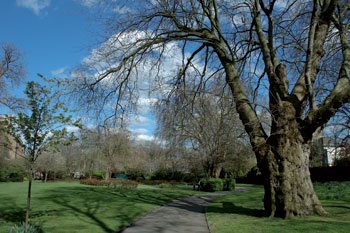 Councils would be required to consult residents before cutting down trees in urban areas under Government plans.
The proposals put forward by environment secretary Michael Gove, aimed at protecting street trees, would mean a consultation with the community would have to be held before a tree could be chopped down by a local authority.
There would also be new responsibilities for councils to report on tree felling and replanting in the area and the Forestry Commission would be granted new powers to curb illegal felling.
Mr Gove said: 'It's right that the views of local people are at the heart of any decision that affects their community – and the futures of the trees that line their streets are no different.
'These measures will enhance the protection given to urban trees, ensuring residents are properly consulted before trees are felled and safeguarding our urban environment for future generations.'
The proposals follow a long-running dispute between Sheffield City Council and campaigners over tree felling in the city.
Protesters were taken to court for breaching injunctions after interfering with contractors while the council was forced into reviewing its contract with Amey.
Work was put on hold last year while the two parties work on a tree strategy in an effort to find a compromise.
A consultation on the Government's proposals will close on February 28.