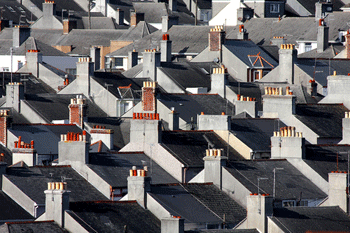 The building of homes to replace those sold off under Right-to-Buy (RtB) needs to increase 'five-fold' to meet the Governments promise of one-for-one replacement, a spending watchdog warns.
The National Audit Office (NAO) also argues the proposed replacement homes would not necessarily be 'like-for-like'.
The NAO's warnings come in a report for the Public Accounts Committee (PAC) examining the potential impact of the Housing and Planning Bill, which proposes giving 1.3 million housing association tenants the right to buy their properties at discounted prices.
The Government intends the plan to be financed through the sale of 'high-value' council homes when they fall vacant, which they say will be replaced one-for-one.
What constitutes 'high value' will be defined at a later date.
But, the Independent reports, the NAO has warned the PAC the 'pace of replacements will also need to accelerate to keep pace with the target in subsequent years'.
'To meet the target of replacing the roughly 8,512 homes sold in 2014/15 by the end of 2017/18 would require quarterly housing starts to reach around 2,130, a five-fold increase on recent figures of approximately 420 per quarter.'
The replacement housing is also unlikely to be 'like-for-like' the NAO says. Replacement properties can be 'a different size, and built in a different area, compared to those that have been sold'.
Visit The MJ to find out about mounting opposition to the Government's controversial Housing and Planning Bill.