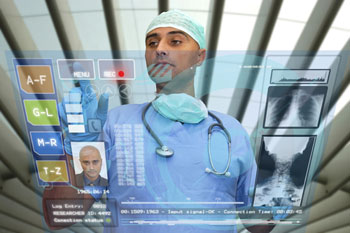 Technology and healthcare have long been linked, but the relationship has tended to be a one-way flow, especially when it comes to software.
Technology companies often apply already developed software to medical applications as they see fit. Quite often these are large, costly pieces of software and systems that are complex to install and manage from large vendors, and may or may not do everything users want them to.
Things are changing, though. Collaboration between health and social care practitioners, local government and industry is on the increase.
Critical initiatives like the Digital Healthcare Enterprise Zone (DHEZ) in Bradford are helping health and social care practitioners, along with local authorities and academics, to work with technology companies – both large and small – to build exactly what they need to meet their challenges.
The DHEZ is the only health-focused enterprise zone in the UK, and is led by a partnership of the University of Bradford, City of Bradford Metropolitan District Council and BT, but also includes representation from local Trusts, including the Airedale NHS Foundation Trust and Bradford District Care Trust.
'Problem statements' are at the heart of the way the DHEZ works with health and social care professionals. These lay out the exact challenge they face, which is then briefed out to the DHEZ community to develop a solution.
This can then be tested in planned facilities on the university campus that will house researchers and students who work with patients and healthcare organisations, as well as companies, to trial and monitor new technologies. It will also house a two-up two-down digital home that will be used for training and to trial digital solutions
In addition to helping to solve problem statements, the DHEZ also helps to incubate healthcare technologies, providing support, routes to funding and expertise to help develop and take new technologies to market.
One great example is Konnektis – an internet-enabled tablet that stays permanently in a patient's home and serves as a 'care hub', enabling all carers that support an older person to have access to essential information in real-time, in the most appropriate format. It also keeps the patient's family updated and allows them to communicate directly with carers and revise information, if required.
Founded by someone who was frustrated with the communication between carers looking after his grandfather – who were entirely reliant on a paper-based system – its application could revolutionise care for the elderly, especially those with dementia.
The key is for the relationships between health and social care, local authorities and industry to be two-way, and based on trust, not the transaction. The DHEZ is a great example of what can and is being done, but there is still a way to go until the approach is commonly accepted, and collaboration is at the heart of technology in health and social care.
Jon Knott, DHEZ partnership director, BT