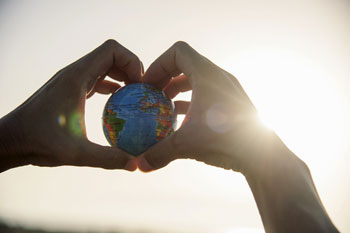 National climate change targets are 'unlikely to be met' unless local authorities are given long-term funding and more powers, council chiefs say.
The Local Government Association (LGA) issued the warning after the charity Friends of the Earth said that councils were doing 'far too little' to tackle climate change.
The charity has assessed local authorities in order to determine which are the greenest and which should do more to alleviate the impact of the climate crisis.
The research assessed each council according to a number of categories, including renewable energy, public transport, lift-sharing, energy efficiency at home, waste recycling, and tree cover.
Wiltshire topped the table of the most climate-friendly councils in England and Wales. Pendle, Ribble Valley and Spelthorne councils came last.
Friends of the Earth chief executive Craig Bennett said that all councils needed to 'ramp up what they are doing.'
'Doing things right now about climate change isn't just good news for future generations and people most vulnerable to an erratic climate, it's good for everyone,' he said.
'Creating cleaner and greener places to live means healthier, happier lives. It's why local authorities need to take the lead by adopting ambitious local climate action plans, and who better to help them than communities.'
Mr Bennett acknowledged that local authorities needed more powers and funding from the Government. However, he urged them to come together to pressure Whitehall into putting climate change at the front of all decision making.
Cllr David Renard, environment spokesman for the Local Government Association, said that councils were doing 'significant work' to protect the environment.
'Councils are already doing significant work to protect the environment, to mitigate and adapt to the effects of climate change and to address issues that affect the environment and the health of our communities,' he said.
'This includes tackling harmful air pollution by devising clean air zones and protecting at-risk areas outside schools, encouraging the use of electric vehicles through promoting recharging points, and investing in cycling.
'However, national climate change targets are unlikely to be met unless councils are given long-term funding, devolved powers and easier access to complex government funding pots.'
He added: 'A joint national taskforce led by councils would harness the critical partnership between local and national government to coordinate and drive climate change action for the benefit of communities, the country and the planet.'