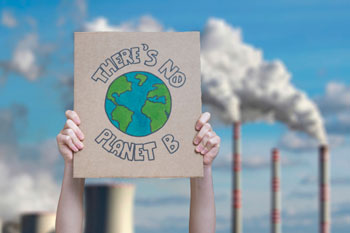 A gathering in the sunny south coast resort Bournemouth in July took a serious turn when delegates considered a motion on climate change.
Urgent action is required, the Local Government Association (LGA) said, to avoid 'runaway global warming and climate breakdown.'
The LGA declared a 'climate emergency', following in the footsteps of more than half of councils in the UK, many of whom have set 2030 as the date to reduce carbon emissions to zero.
'We know what needs to be done, so now we just must get on with it,' declared Doina Cornell, leader of Stroud Council and co-chair of the newly-launched climate emergency network.
The question for many now will be what exactly they need to do to 'get on with it'.
The LGA resolution talks of delivering models, engaging stakeholders, creating focal points for activity and facilitating the sharing of best practice.
But this is only the preamble, setting the scene for the fundamental change in mindset needed for radical action to meet carbon reduction goals.
Some councils are taking the lead. In March Leeds City Council declared a climate emergency and said it would make reducing carbon emissions central to every area of its activities, including creating a new executive board position with responsibility for climate change, transport and sustainable development.
It launched the Big Leeds Climate Conversation, a three-month citywide conversation on climate change whose results will be announced in December, when a more detailed plan for meeting its carbon reduction target will be unveiled.
Many other councils are taking similar steps. Friends of the Earth has produced a programme for local authorities to meet the target set out in the 2008 Climate Change Act to reduce carbon emissions by 80% by 2050.
The Act did not place any statutory duties on councils to produce their own plans to cut carbon emissions and they face big challenges with tight spending constraints and weakened powers.
But there are a handful of strategic principles councils can start by adopting, according to FoE: making a political commitment to reducing greenhouse gas emissions, developing carbon reduction pathways, formulating climate compliant strategies and raising funds for action.
And there are things they can start doing straight away. In about half of local authority areas transport is the largest source of total emissions, while the domestic sector is the largest in nearly a quarter.
In dense urban areas including central London boroughs homes are mainly responsible for emissions whereas transport may be the largest source in smaller cities or more suburban or rural areas.
FoE's 33 specific action points include, for example, introducing workplace parking charges or requiring taxi companies to use electric vehicles. Councils can invest in public transport and encourage the use of electric buses.
Using their powers over planning, they can raise energy efficiency standards in buildings. They can improve waste collection and recycling, develop district heating and use non-profit green energy companies. They can plant more trees.
These are areas in which councils can have a direct influence, but they can also affect what happens beyond their own estate and make sure to deal with all areas where they have powers and responsibilities.
Such measures will already have been adopted by the many councils now declaring a climate change emergency. How robustly they will be pursued will determine the extent to which local government can play a part in tackling climate change. The most far-sighted will make a real difference, realising that never before has the phrase 'think global, act local' had more urgent meaning.