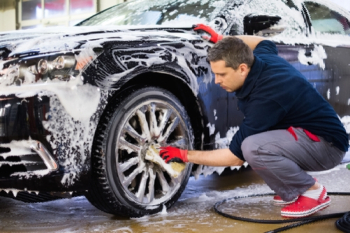 Council chiefs have endorsed a new app designed to help gather information about modern slavery in car washes.
The Safe Car Wash app, which has been launched by the Church of England, will aid the public in identifying signs of modern slavery.
Users of the app will be able to open it while at a car wash and it will walk them through the warning signs of slavery, such as whether workers have suitable protective clothing or whether they look withdrawn.
If the answers indicate a high likelihood, users will be directed to the Modern Slavery Helpline.
Data from the app, which is from the church's campaign against modern slavery, the Clewer Initiative, will be anonymised and shared with the National Crime Agency (NCA) and the Gangmasters and Labour Abuse Authority (GLAA).
'Over the last few years we have learnt more about the evil of modern slavery and we have begun to understand how it is perpetrated in our communities in plain sight,' said the Archbishop of Canterbury, Justin Welby.
'Through the Safe Car Wash App we now have a chance to help tackle this scourge which is damaging so many people's lives.'
Will Kerr, director of Vulnerabilities for the National Crime Agency (NCA) said: 'This app will help to engage the public in identifying car washes, where slavery is suspected, and will also help law enforcement identify those people who may be at risk, as well as those criminals who are exploiting the vulnerable.'