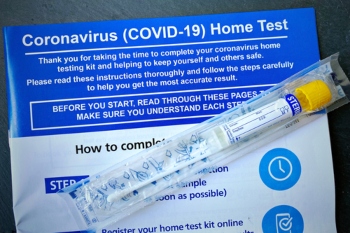 Specialist charity fundraising teams are being drafted in to extend public health capacity in London, facilitating home-based Covid-19 testing and providing information to protect and support residents.
The Personal Fundraising Services (PFS) Covid-19 campaign teams typically work on behalf of national charities in building brand awareness and raising funds for some of the most vital UK causes. But with a national lockdown in place, fundraisers have been trained to deliver coronavirus outreach services.
Appointed to support Redbridge Council, the PFS teams are delivering free home testing kits to households across the borough. The service has been crucial, particularly for older or vulnerable residents and those who are shielding or feeling anxious about leaving their homes while the virus is at its peak.
At the beginning of January, Redbridge had the third highest positive rate of Covid-19 in the country.
Councillor Mark Santos, Redbridge Council's Lead member for Health, said: "Being able to offer home test kits at our residents' door steps has given people who may not have taken a test the ability to do so, easily. It's helped them to stay home, given peace of mind, and helped us to control the spread of the virus. This additional testing offer has been crucial as we have suffered some of the highest rates of Coronavirus in London, and has demonstrated that we are doing everything we can to keep Redbridge safe."
Redbridge residents don't need to have any symptoms to qualify for home testing. Through PFS, testing kits are delivered to their homes, where they can be completed instantly and returned for processing. The PFS outreach teams are also supporting residents by sharing information about what they can do to protect themselves and limit the risk of transmission. Representatives wear PPE, maintaining a safe distance and displaying ID, demonstrating that they are working on behalf of Redbridge Council.
To date, PFS has visited and supported residents in 6,000 Redbridge households, facilitating over 2,000 tests. After a successful trial, the project has been extended to run to the end of March, with plans to enhance the programme specifically to support those with visual impairments.
Nationally, concerns are on the rise about the spread of coronavirus variants, with local authorities in many areas ramping up home testing and seeking new solutions to make testing more widely accessible.
With more than 500 campaigners and fundraisers working across the UK, PFS is now offering specialist door-to-door Covid-19 outreach services to local authorities across the UK. The services complement the national Community Champions initiative, which aims to support those most at risk from Covid-19.
For more information, see www.pfs-ltd.org, contact Kunal Patel at PFS on 07808 556 754 or by email at kunal.patel@pfs-ltd.org.
Photo: stocksre / Shutterstock.com