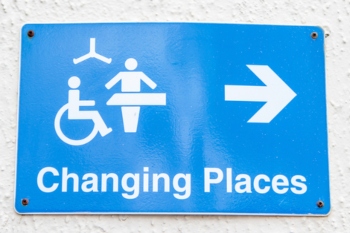 Councils in England are being urged to apply for a share of £30m to install Changing Places toilets in public places and tourist attractions.
Changing Places toilets are larger accessible toilets that come with equipment such as hoists, curtains, adult-sized changing benches, and space for carers.
Although over 250,000 people in the country need these facilities, there are currently only 1,200 installed across England.
Ministerial disability champion, Eddie Hughes, said: 'Where people shop, go out, or travel should not be determined by their disability. That's why the provision of Changing Places toilets is so important for people who cannot use standard accessible toilets.
'I hope local councils across England will apply for funding to install CPTs so everyone can enjoy the benefits of lockdown easing.'
Councils that are awarded funding will be provided with specialist advice from Muscular Dystrophy UK, co-chairs of the Changing Places Consortium.
Leeds City Council has installed 42 Changing Places toilets across the city since 2011.
Bairbre McKendrick, access officer at Leeds City Council, said: 'Our advice to other local authorities is not to be hesitant and apply for this funding, as users will be delighted to have new CPTs and will definitely use them. Your city and towns will benefit from CPTs and the freedom they can offer to people who need them.'