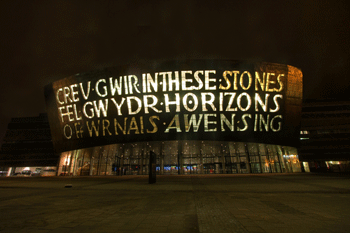 Cardiff Council are considering a £26.5m scheme which could heat public and commercial buildings across the city using non-recyclable waste.
The cabinet has reviewed proposals to develop a district-heating network in parts of Cardiff bay and the city centre using energy from Trident Park Energy Recovery Facility.
The network would be powered by non-recyclable waste from nine local authorities in South East Wales, including Cardiff, rather than gas.
The schemes adoption would potentially reduce energy bills and the city's carbon emissions.
'This is an exciting opportunity for Cardiff to develop new low-carbon, energy infrastructure, fuelled by existing assets and facilities in the city,' said cabinet member for clean streets and the environment, Cllr Michael Michael.
'Analysis that has been carried out shows the scheme has the opportunity to save 5,600 tonnes of carbon each year, with an assumption of a 5% saving on energy costs for the buildings that connect to the network.'
'However, these schemes are reliant on a number of factors to make them viable,' he continued.
'Firstly, external funding is required and we are working with both central and Welsh government to help us put the correct funding in place.
'Secondly, long-term contracts have to be secured to use the heat from the network and this will be essential for the scheme to progress.'
An outline business case has been developed to evaluate the project and cabinet has given their support, in principle, for the scheme and to progress to the next stages of the proposal.
This will include applying for grant and other funding, securing contracts with heat customers and suppliers, and beginning the process to tender for a company to design, build, operate and maintain the heat network.
The council's cabinet has agreed to allocate £4m towards the scheme.