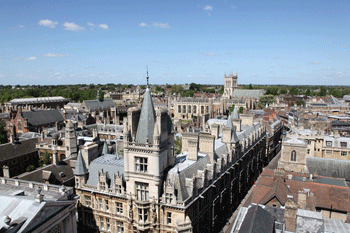 Cambridge is set to build a 'world class' public transport system and thousands of new homes as part of a new plan for the city.
The Greater Cambridge Partnership set out how transport schemes will transform how people can get around the city quickly, easily and reliably at its annual conference this week.
In the last year the partnership has completed a cross city cycling scheme and began work on a £4.6m project to create 12 walking and cycling routes connecting outlying villages to the city.
The partnership's chair Lewis Herbert said: 'Greater Cambridge is growing fast, both in terms of jobs and new housing, and it is an exciting time to live, work and study here.
'Working with partners, our job is to deliver the vital transport improvements needed to link up extra homes and jobs to exiting communities, improve quality of life for people and ensure Greater Cambridge continues to flourish despite national uncertainties.'