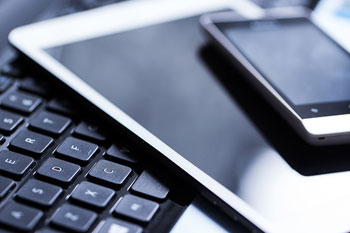 A Government vow to collaborate with councils on digital services has been welcomed as 'vital' for improving local approaches.
Chancellor George Osborne yesterday confirmed the Treasury, Department for Communities and Local Government and the Government Digital Service would team up with local government to design more customer focussed, digitally-enabled and efficient services.
The pledge was welcomed by businesses in the technology sector, which claimed councils had already 'advanced further' in digital transformation than Whitehall thanks to sweeping budget cuts.
Cllr Peter Fleming, chairman of the Local Government Association's improvement and innovation board, said collaboration and knowledge sharing between councils and central government was 'absolutely vital' because town halls were 'best placed' to design appropriate digital solutions.
'Councils are on the frontline of public services and help residents navigate and access a range of vital public services. Any commitment to greater digital collaboration to enable the public sector to join up more effectively around residents will help our communities,' Cllr Fleming said.
'Councils understand and work closely with their residents and use digital technologies to find local solutions to different needs, from reporting potholes to looking after the elderly. To do this effectively, central government partners must be willing to share data with councils.
'We need to work across the public sector to implement and share technology so we can support our residents and businesses more effectively and efficiently.'
Georgina O'Toole, analyst at researchers TechMarketView, said: 'Arguably local government has advanced further in its digital transformation and "channel shift" agenda than Whitehall.
'Budget cuts have pushed them in that direction. But this may herald a more consistent approach with more common standards and sharing in order for even more cuts to be achievable.'
Paul Bradbury, group business development director at Civica, added: 'We applaud the call for closer collaboration between Local Government, Government Digital Services and partners to deliver more customer-focussed, digitally-enabled and efficient local services.
'It is evident that new technology implementations are driving efficiency savings and 43% of council leaders and chief executives believe that using technology to encourage citizens to self-serve will be a key priority as their organisations adapt to a new model of working by 2025.'