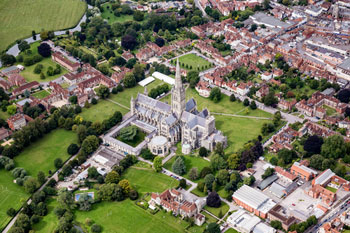 Salisbury is about to become the first entire city in the country to gain access to Openreach's new, future-proof fibre-to-the-premises (FTTP) broadband technology in what is expected to be the fastest city-wide network build in the UK.
The digital infrastructure company is aiming for its 'Fibre First' build programme in Salisbury to be completed within a year, and it will deliver fibre optic broadband cables from the exchange directly to more than 20,000 premises across the city.
When it is complete, families, businesses and public buildings across Salisbury will be able to reap the benefits of fast, reliable and future-proof broadband for decades to come.
Openreach is working with partners across the city to make sure the infrastructure build can happen at an unrivalled pace and with minimal disruption to local residents.
The partners are also working on new ways to use the platform to boost Salisbury's future productivity and prosperity.
Chancellor of the Exchequer, Philip Hammond, said: 'I'm delighted that Salisbury will be the first UK city to gain universal access to the gold-standard of the – ultrafast full fibre – making it one of the most cutting-edge cities in the country.
'It's vital that every family and business across the country can benefit from this new technology, which is why we've committed to deliver a nationwide full fibre network by 2033.'
Local MP John Glen said he was 'delighted by the decision to bring full fibre broadband to Salisbury. 'Full fibre will significantly improve the attractiveness of Salisbury for companies looking for a location with cutting-edge connectivity, boosting the number of high-quality job opportunities for constituents.
'With speeds of 1Gbps, I very much look forward to seeing how this investment will transform opportunities for local residents and businesses, as well as driving innovation in the provision of public services.'
Salisbury joins 25 other locations across the UK that will make up the first phase of Openreach's multi-million pound 'Fibre First' programme, which will initially connect three million homes and businesses by the end of 2020.
As part of its investment, Openreach is recruiting 3,000 trainee engineers across the UK, 24 of which will be in Salisbury. The company plans 12 new and upgraded regional training facilities for engineers, with two up-and-running already in Bradford and Peterborough.
Openreach's ambition is to build FTTP to around 10 million premises by the mid-2020s and ultimately to the majority of the UK. By the end of 2018, Openreach had made full fibre broadband technology available to around 900,000 homes and businesses nationwide.
To ensure the community is kept up-to-date on the project's progress, Openreach will provide updates ahead of each Salisbury City Council meeting. Full fibre technology will also be a boost for Salisbury's education, health and social care facilities. For schools, colleges and universities, an FTTP connection can unlock opportunities for online learning; the streaming of lessons and lectures without interruption; and the use of portals for communicating with classmates or teachers, and submitting work.
For GP surgeries, full fibre can enable faster, more reliable on-demand services, such as remote doctors' appointments and check-ups, plus more efficient, reliable access to online information and records. And in care homes, it can mean a 24/7 connection between residents and their loved ones, as well as activities and entertainment, from catch-up TV to online puzzles and e-books.
Local businesses have welcomed the investment. Rich Lloyd, director of games company Blueflame, described the move as a 'gamechanger'. 'Reliable broadband is an essential tool for any business and we couldn't survive without the internet.
The benefits of fibre broadband will mean that we can directly compete with places like London, without any of the challenges that businesses in inner cities face.'
Director of Salisbury based firm, the British Shoe Company, John Carney Jr, said: 'We are losing around two to three hours a day from the internet crashing and being extremely slow. This has a direct effect on our productivity both in-store and online, which has a dramatic effect on our company turnover.
'I believe our overall ability to compete both in the UK and around the world will be drastically improved.'
Openreach chief executive, Clive Selley, said: 'Salisbury has a unique and inspiring history - from its medieval sites to its thriving cultural sector, it's an icon of our national heritage – and now we're laying the foundations for an even more exciting future.
'The city will be a focal point of our ambition to future proof the UK's digital infrastructure and boost the country's economic growth and productivity.
'For Salisbury's homes, shops, GP surgeries and schools, it will mean fewer broadband faults, faster connections, and a consistent reliable network that will serve the city for decades to come. From home-working to healthcare, digital trade to entertainment, the possibilities that a full fibre network can bring are almost limitless.
'This is the first location in the UK where we're aiming to upgrade an entire city network in a single year, so it's a hugely ambitious project. As a medieval city, Salisbury's narrow streets won't be the easiest for our engineers to access and work in, but we're confident that it's achievable thanks to the close partnership we've built with the Council and the unrivalled experience and skill of our engineering teams.'
Wiltshire Council also welcomed the investment in the City. Cllr Pauline Church, cabinet member for economic development and South Wiltshire Recovery, said: 'We are looking forward to fibre broadband coming to Salisbury and enjoying the benefits of full-fibre technology in the city.
'This new network will provide a platform for Salisbury's future economic and social prosperity, and we welcome Openreach's commitment to ensure a safe, fast and quality build that minimises disruption in our historic city.'
More information about Openreach's fibre first programme can be found here: openreach.co.uk/fibre-first