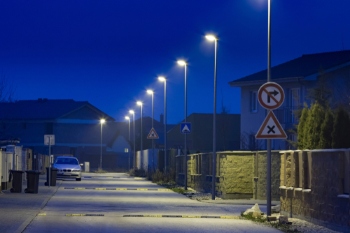 Bristol City Council is considering a multi-million-pound scheme to replace 29,000 old street lights with the latest LED lanterns to help cut carbon emissions and energy bills.
The new lighting, thanks to the longer life span and less energy intensive nature of LEDs, is projected to save the council around £1.8m a year in energy and maintenance costs.
The proposals, which are set to go before cabinet on 5 April, also include introducing a central management system that would enable the street lighting network to be monitored and controlled remotely. It could be used to dim lights in certain areas or illuminate others for events or if there is an accident or incident.
Upgrading the street lighting network could also save almost 13,000 tonnes of carbon dioxide within 10 years.
Cllr Don Alexander, cabinet member for transport, commented: 'With the climate emergency and energy bills rising across the UK, it has never been more important to find ways to reduce our energy consumption across the city.
'Making an upfront investment to speed up our switch over to LED street lighting is a simple way to make energy savings of up to 50%, which is good news for the environment and will dramatically reduce our energy bills.
'This is an exciting project that uses smart city technology, which will make sure our street lighting network is responsive, reliable and fit for purpose for years to come.'