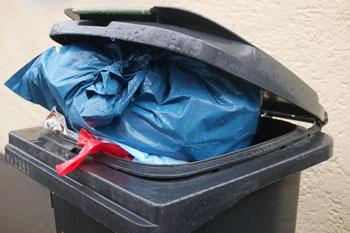 Brighton residents will soon once again see their streets cleared of bin bags as the council reaches a deal with striking refuse collection workers to resolve the ongoing industrial dispute.
Members of the union GMB working for Brighton & Hove City Council's Cityclean service decided to take strike action after the council made changes to rounds on 5 October.
Talks aimed at resolving the dispute broke down last week with one councillor comparing the union's actions to those of terrorists. The councillor in question has withdrawn the comment.
Amid concerns that the uncollected rubbish was causing a health hazard, Brighton & Hove City Council called in private firms on Sunday to clear some of the two-weeks backlog of rubbish.
On Sunday, representatives from the local authority and GMB finally agreed a formal resolution proposal which will go before the council's Policy & Resources Committee for ratification today.
A council spokesperson thanked GMB for meeting on a Sunday and confirmed that a formal resolution proposal had been reached.
'We're pleased that the formal resolution proposal agreed yesterday has this morning been agreed by GMB members and will now be put forward to the council's Policy & Resources Committee for ratification on Tuesday 19 October,' they said.
'A new series of management procedures will be proposed which aim to resolve the dispute on changes to driver rounds; alongside an increase in staff pay.
'The significant and generous pay deal will benefit some of the lowest paid staff across the whole council as well as the Cityclean service and recognises their immense daily contribution to the city and vital support during the pandemic.
'We apologise to residents, business and visitors to the city for the disruption during the last few weeks and thank you for your patience.'