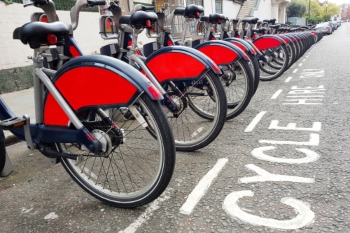 Bike share schemes across the UK have reduced car mileage for each user by an estimated 3.7 miles every week, a new report has found.
Published by Collaborative Mobility UK (CoMoUK), the findings show an average of 41,599 trips are made each day using a bike share scheme.
More than half of users (53%) said they would have used a car or taxi if bike share had not been available for their last trip. Over a third (34%) of those using e-bikes said they were replacing car or taxi trips of more than five miles per week.
The report also shows that nearly half of users said joining a bike share scheme was a catalyst to them cycling for the first time in at least a year.
'The findings of this report have proved that bike share is a catalyst to re-engaging with cycling,' said Richard Dilks, chief executive of CoMoUK.
He added: 'Ultimately, if we are to achieve our ambitious net zero targets, we need to address the issue of private vehicle ownership, which massively contributes to the UK's emissions.
'Shared transport such as bike share schemes, along with car clubs, demand responsive transport and e-scooters, alongside public transport, are the key to achieving our goals.'
There are now 39 bike share schemes set up across the UK, with 21 locations having e-bikes.