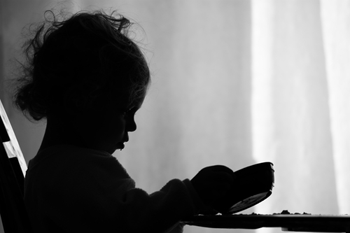 The benefits freeze and cuts to Universal Credit threatens to increase the number of children living in poverty, charities warn.
The End Child Poverty coalition has today published new figures revealing more than 3.5 million children are living in poverty in the UK, with the majority concentrated in cities such as London, Birmingham and Manchester.
The coalition of charities, faith groups and unions has warned the Government that the benefits freeze - in place until 2020 - will mean low income families will find it increasingly hard to pay for the same basic essentials as prices rise
They also said recent cuts to in work support under Universal Credit would 'push more working families' below the poverty line.
Both of these cuts, they argued, contribute to increasing child poverty.
'As the prime minister has rightly recognised, this is not a country that works for everyone,' said the chair of End Child Poverty, Sam Royston.
'In every community, there are children being denied the happy childhoods and the good start in life other children take for granted. Our children are now twice as likely to be poor as our pensioners.
'Many families who are just about managing today, won't be managing tomorrow if Universal Credit leaves them with fewer pounds in their pocket, and if rising costs of living means their money doesn't stretch as far as it used to.'
Mr Royston also urged the chancellor to 'to reverse the significant cuts to Universal Credit targeted at working families and, at the very least, shield children's benefits from inflation.'